Morning and hello! Hope you are having a good week so far. It's time for me to show up here in the blog world again. I have a few card that I could show for you but for now will it be these ones as needs to be scheduled. So here we go! We have a really lovely theme here over at Passion for Promarkers this week. Our theme is set to celebrations.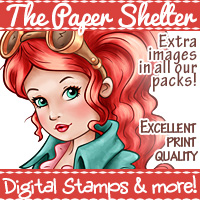 And our sponsor this week is
The Paper Shelter,
so you will all see a whole bunch of TPS cards this week. They will also give one lucky winner a lovely prize of 3 digis. You will be one luck winner as the images are fantastic.
For this card have I used a lovely image that is called
Wrapped in cotton
. A perfect image for a cat lover just like me. I love the lovely cosy look of this image, it makes me smile and think about Bullen who we lost three monts ago. Anyway, back to the card then. I have coloured with my Letraset/Winsor/Newton markers. I kind of started light but then started to mix up all the colors and mixed colours that I normally wouldn't use together. Anyway, for some kind it ended up in a good way. I really love the out turn of the card. I had fun making the card. My first in quite some time. Wish I had some stuff down here in the basement so I easy colour start doing me coloring and have my stugg with me. A bit off topic again, aren't I ? Sorry about that.
The designer papers I have used for this card is from Victoria. I used some leftover paper pieces that have been laying around for a really long time. They are colourful and quite lovely. Maybe I should start doing more cards with this paper pack. Well, there is always so many pads waiting just around the corner. The only decorations for this card is some paper flower and a few tiny butterfly. Really pretty. Love the colours in this card as well. Two cards that makes me feel happy. The stamp saying Grattis is from Gummiapan. I need to stock up on their text stamps. Really good sizes.
Oh well I need to finish this post off for today. Anyway, do play along with us. The only must is that you use your Letraset /Winsor and newton marker. Then you have a chance of winning the fabby TPS prize of three digis. Come on and let us see all of your fabby celebration creations. It will be a joy to come and visit your blog and leaving you some love.
Take good care and do something that makes you happy!
Love n hugs
Marie
Challenges for this card
TTCRD -Anything goes
Artistic Inspirations - Anything goes
Crafting from the heart - Anything goes
Crafty cardmakers - Birthdays
Crafty Girls Creations - Anything goes